Scott in People Magazine
3/26/01 Issue
Transcript
"Staying Alive"
'Scott Stapp of Creed plays the rock-star
game with an eye to self-preservation'
With his leather pants, gravelly baritone and messianic strange moves, Creed lead singer, Scott Stapp certainly looks the part of a rock star, but he hardly acts it. "I see a lot of breasts when I'm singing," he says of female fans who flash him during concerts. "But thats not what I'm into." In fact, Stapp rejects the sex, drugs and rock and roll code that his hero Jem Morrison lived by and, at 27, died by. "There is no rule that says if you're in a rock star you have to have sex with as many groupies as you can", he says. "There is no rule number two that says take as much drugs as you can so you can die at 27."
He may not share his idols appetite for self-destruction, but Stapp, now 27 himself, is a throwback to those glory days when charismatic rock singers like Morrison ruled the pop world. Having sold more than 9 million copies of their latest album of inspirational anthems, Human Clay, the follow-up to their 5-million-selling 1997 debut album, My Owm Prison, Stapp and his bandmates—guitarist and co-songwriter Mark Tremonti, 26, and drummer Scott Phillips, 28 (bassist Brian Marshall, 27, recently quit the band to pursue other interests.)— are thriving in an era when teenypop and rap metal acts have made rock bands an endangered sprecies. Rolling Stone music editor Joe Levy says that Creed's "big melodic, skyscraper-size rock and roll" sound appeals to "a lot of people who dont want to listen to Britney Spears or Jay-Z." At the same time, Stapp's "great voice" and "spiritual depth" galvanize audiences, says John Kurzweg, producer of Creed's two CD's. "He's carrying on that [rock star] tradition."
Of coarse, that tradition has long included marital strife, its no different for Stapp, Divirced in June 1999 after a 16-month marriage to Hillaree Burns, 22, an aspiring model, Stapp says the reason "wasn't infidelity. We were just young and had a baby, and everything happened so fast." Within a month the couple reunited, but that reconciliation failed, and Burns is now living in a house Stapp bought for her near his own in Orlando. "I think in her heart she would like a man who's home every day ," he says. "I'm in a rock band and I'm gone alot. I'll always love her. She gave me one of the greatest gifts in my life, my son."
Now sharing custody of 2-year-old Jagger—"Not named after Mick!" Stapp insists. "His name means 'one who carries a message'"—he prides himself on being a full service dad. "I do everything from the diapers to the vomit." he says. "I've been peed on, pooped on, the whole nine yards." His mother, for one, marvels. "In a man," says homemaker Lynda Stapp, 51, "it's rare to see such a material instinct."
Raised near Orlando with two sisters and two stepsisters as a born-again Christian by Lynda and her second husband, dentist Steven Stapp, 58, Scott was a preschooler when his natural father left home. "I love him," he says of his stepdad, a strict of his stepdad, a strict disciplinarian who sometimes, as punishment, made him copy long passages from the Bible by hand. "He's a strong man for coming into a situation where a woman had three kids." As a child Scott was "very sinsitiveand intuitive," recalls Lynda. "I never put him down for showing emotion, and I think that fuels his artistry." Not that it helped him with the girls in high school: "I was always the guy the girls called and cried about their boyfriends to." By his freshman year at at Tennessee's Lee University, he had grown three inches taller and suddenly "all these girls wanted to go out with me."
Bounced from college for smoking marijuana, Stapp, who rebelled against his strict Christian upbringing and is no longer an active churchgoer, moved to Tallahasse, FL. (after reading that Jim Morrison once lived there). In 1995 he began setting his poetry to Tremonti's music. Now that his career is at full boil, Stapp devotes some of his downtime too his charity, With Arms Wide Open Foundation, named after Creed's singnature hit. (The organization, which he funds with proceeds raised from Creed CD sales and concerts, helps homeless families find affordable housing, then pays the deposits and two months' rent.) But his most precious moments are reserved for playing with music with Jagger, who likes to bang on the baby grand piano, drum set, and guitar his father bought for him. "He pretends he's strumming and singing into the micophone, " Stapp says proudly. "He says, 'Daddy, lets go upstairs and jam.'"
| | | |
| --- | --- | --- |
| | • | Steve Doughety |
| | | |
| --- | --- | --- |
| | • | Linda Trischitta of Miami. |


Pics from People Mag. (3)


| | | |
| --- | --- | --- |
| | • | Scott & Jagger |
| | | |
| --- | --- | --- |
| | • | One of Scotts Baseball Pics |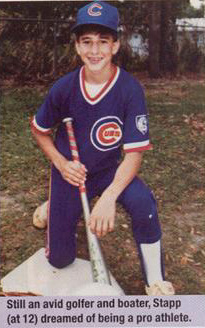 | | | |
| --- | --- | --- |
| | • | Scott & his family last Easter |