Pics of Scott at Vergeweb.com...

There are pics of Scott Stapp at this website. It looks that he is in a club singing with a band that is playing. To check out the pics click here.


Rumored that Stapp is to sing a track on an indipendant bands song...

Unconfirmed, but from a good source-- is that Scott Stapp loves the DoubleDrive song "Imprint" and has offered to sing on the track. DoubleDrive is shopping for a record deal, so we'll have to wait & see what happens. Click here to listen to DoubleDrives track, "Imprint"




Listen to Scott Stapp on the Hard Rock Cafe Commercial...

Yes, you can now here Scott Stapp's voice from the Hard Rock Cafe commercial advertizing the With Arms Wide Open Sig. Series shirt. To listen to it, click here




5/12/01 "Stapp talks about new album"

There is a Yahoo! article which features Scott Stapp talking about the new album. He mentions the name of a song he is working on and the very possible name for the new album! To read more, click here!



- 4/21/01 "Stapp in NightClub Brawl"

Scott Stapp was recently in a fight with a man at a nightclub in Florida —To read the whole story, go here!


- 4/12/01"Stills of Stapp at BlockBuster Awards!"

Creedluva & ThatCreedGirl, owners of the Creed fan site CREED PIT has already got up some stills of Scott Stapp (some of the pics w/ the rest of the band)! To check out some of those stills click the pic of Scott below!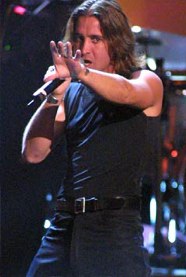 4/5/01—"New behind the scenes pics of Scott at Hard-Rock Cafe!"





At www.hardrockcafe.com there are 8 pics of Scott Stapp at Hard-Rock Cafe signing the new Creed T-shirts (the new one from the WAWO Foundation). To check out all these pics, please click here! *If the "Behind the Scenes with Scott Stapp" section of the web page doesn't show, please scroll down to the bottom of the page*


Unknown Date-"Scott in People Magazine!"

-Scott Stapp is featured in the 3/26/01 issue of People Magazine, there is a two page article with three pics! To read the transcript and see the picks, Click Here!


Unknown Date- "Scott in HM Magazine..."

Here is a pic of Scott from HM magazine, thanks to CreedLuva for this pic! (Article hopefully coming soon)